COVID 19 + Salon Policies
COVID-19 Policies
Effective March 1, 2022: Mask Optional.  If you would like your service provider to wear a mask, we are happy to accommodate.  Please mention at the front desk.  Thank you.
WHAT TO EXPECT FROM US
– New HEPA air filters on HVAC system and fresh air flow in the salon.
– All staff members are Barbicide COVID-19 certified.
– Cleaning of all stations, tools and surfaces in accordance with CDC and OSHA standards, as always.
– Capes and towels are washed and dried hot to the touch between each guest, as always.
– Guest flow management to maintain one to one stylist to guest ratio.
WHAT WE EXPECT FROM YOU
– Please wash your hands upon arrival.  Your stylist will escort you to our wash station.
– Please come to the salon alone.  No additional guests or children at your appointment.
– Apple Pay preferred, credit cards that tap or dip can be used too.    Gratuities can be left via Venmo or Square.  No change will be available. There will be no cash or checks accepted.
– Please minimize personal items you bring to the salon.  We suggest paring down to keys, phone and form of payment if possible.
– Please use a common sense approach to health and wellness. Do not come in if you show any COVID-19 symptoms or are sick or if you have been in contact with anyone sick.  Either circumstance will have your appointment rescheduled to 14 days from the current date.
TEMPORARY MEASURES
– Salon capacity is 9 people.  (4 stylists, 4 guests, one Front Desk team member)  No additional guests or children at your appointment.
– There in no waiting in the salon.  Our waiting area has been removed.  Please arrive at the exact time of your appointment and our front desk team will manage the flow of guests in and out of the salon. We will call you if anything changes.
– Until further notice, Children's Haircuts will not be available.  If you have a child's haircut pre-booked, we will call you to reschedule.
– We will not be offering beverages at this time.  Food and drinks are not permitted.
– We will offer Curbside Aveda retail purchases.  Simply call ahead or upon arrival and our Front Desk team will help you complete your transaction.  414-963-4300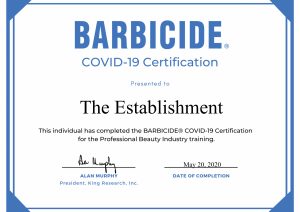 Before You Book
Haircuts
All haircuts include a shampoo and style so you do not have to book that separately. Score!
Immediate openings for online booking
Please call us directly at 414.963.4300 if you would like to book ASAP. There is a one-hour daily buffer for all online appointments. For example, if you log on at 1pm, it will give you appointment options from 2pm – onward. So, to get in ASAP, ringy dingy ding us at 414.963.4300.
Reservations
All services are a la carte. Please arrive on time to your reservation to ensure you receive your full service. Please be aware that arriving late to your appointment may result in altering the services available or cancellation. We recommend that you book your next reservation prior to leaving the salon so that we can best accommodate your schedule.
Cancellations
As a courtesy to our other guests and our salon team, please provide a 24-hour notice of cancellation for an appointment. All appointments must be cancelled at least 24 hours in advance. You can do so online or by calling 414-963-4300. Appointments cancelled with less than 24 hours notice will be charged for the full amount. We appreciate your understanding as we strive to provide you with the best services possible!
Cancellations Due to Illness
If you cancel with less than 24 hours due to illness, you must call in to 414-963-4300 to reschedule to a new future appointment otherwise, you will be subject to our full cancellation policy.
Bridal Parties
The Establishment offers wedding day hair styling and makeup services. All services are a la carte, including any trial visits. Stylists are available to do bridal parties on-location. How much do we charge? In-salon, please see above menu. On-location, please see above menu and double the price of each service. Email [email protected] for more information.
Your Kids (please see Covid-19 rules above)
We really do love kids. Some of our stylists have cute little kids, we are all aunts and uncles and heck, we were all kids once ourselves, but the seating and space can be limited at the salon, so to ensure a peaceful visit for you and other guests and to ensure the safety of your children, please leave them home.  Thank you for understanding.
Color Service Definitions
Aveda Full Spectrum™ hair color is the most customizable hair color system in the world. The Establishment offers detailed balance, balayage, highlights, weaving, gloss, ombre and tint and toner color options. For a complimentary color consultation, please call us or book online.
Main Color Services
Tint (New growth only)
Color Balance (New growth to ends)
Color Weaving (Highlights)
Ombre + Balayage
Secondary Color Services
Glossing Treatment (Adds volume, enhances shine and conditions hair)
Enhancements or Olaplex (Toner, gloss or color between foils only)
Hair Extensions
All hair extension appointments require a complimentary consultation. We specialize in VoMor Extensions. Following your consultation, a 50% deposit is required to book your full extensions appointment.